Providing Solutions, Achieving Goals, Reaching Our Dreams
Is your home safe?
Our Wellness products are developed with the health of your environment in mind. Your indoor and outdoor environments are directly effected by the personal and household products you use everyday. Our environmentally safe products are designed to make individuals, families, our homes and the environment safer and healthier. People are looking for safe alternatives to the toxic grocery store brands they are currently using in their homes. They want to find a way to reduce the dangerous level of indoor air pollution that is linked to the explosion of degenerative diseases.
Your Home
An EPA survey concluded that indoor air was 2 to 5 times MORE polluted than outdoor air. Toxic chemicals found in every home (from cleaning products to personal care products) are three times more likely to cause cancer than airborne pollutants.
We spend 90% of our time indoors, and 65% of that time at home. Moms, infants and the elderly spend 90% of their time in the home. CMHC (Canada Mortgage and Housing Corporation)
150 chemicals that are commonly found in the home have been linked to allergies, birth defects, cancer and psychological abnormalities. Consumer Product Safety Commission
The National Cancer Institute released results of a 15-year study concluding that women who work at home have a 54% higher incidence of cancer than those who work outside the home.
The Environment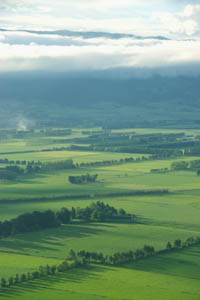 Since 1950, at least 70,000 new chemical compounds have been invented and dispersed into our environment. Only a fraction of these have been tested for human toxicity. We are, by default, conducting a massive clinical toxicology trial, and our children and their children are the experimental animals. Source: Herbert L. Needleman, M.D., Philip J. Landrigan, M.D., Raising Children Toxic Free. Phosphates have been killing our waterways for decades. Over 2 million tons of phosphates are used annually in the U.S. alone, to make laundry detergent and automatic dishwashing liquid. Oceans have been damaged more by household detergents than by all oil spills combined. World Watch Institute Report (State of the World.) We understand that you can not control the chemicals that are polluting the world, however you do have control over whether or not you choose to use them, and allow your family to use them in your personal environment. At Reaching Our Dreams, helping families and individuals achieve personal health and wellness through knowledge and the use of our products is part of what we do. Our Wellness products, many of which are patented and proprietary, meet the needs of everyone concerned about their environment.